Successful companies today maintain a relentless focus on customers; doing everything possible to delight them at every opportunity. However Information Technology (IT) Strategic Plans generally have not kept pace with the customer centric trend.
We recently designed and completed an engagement employing a novel approach to address this gap: a customer journey driven IT strategic plan. Instead of following the typical IT planning approach of focusing on back office functions and processes, we flipped the lens to focus entirely on the customer.
We began by defining the client's customers by type and specific segments.  For each, the client had developed a relevance/engagement score.  We then defined personas for each actor along the customer journey. A persona is a fictional character representing the essential traits of a customer.
Through a series of facilitated workshops, we mapped the customer journey across all lines of the client's business.  For each significant interaction in the customer journey we determined:
What the interaction is
Who interacts (personas)
How the interaction is performed (online, phone, email, chat, in person, etc.)
The customer's overall perception of the interaction
The technology that supports the interaction and how well it serves the customer experience
Opportunities to improve the business process
For each interaction along the journey, the technology and business process were scored as:
Favorable/Unfavorable/Not Supported
Remediate
Replace / Acquire
Redesign
No Action
Following is a sample of the customer journey map.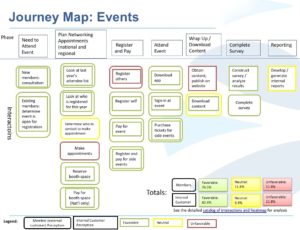 The detailed scorings of each interaction were compiled into heat maps to prioritize the opportunities with the greatest potential for favorable impact and ROI.
A roadmap with timing and costs was prepared to guide the actions required to execute the new customer centric, strategic information technology and process improvement plan.
Following this approach the client is now following a well defined path to execute a customer-centric, data-driven digital strategy that maximizes the contribution of digital technology and digital media, combined with traditional technologies, to support its integrated marketing efforts and to improve customers' overall experiences with the organization across all lines of business.